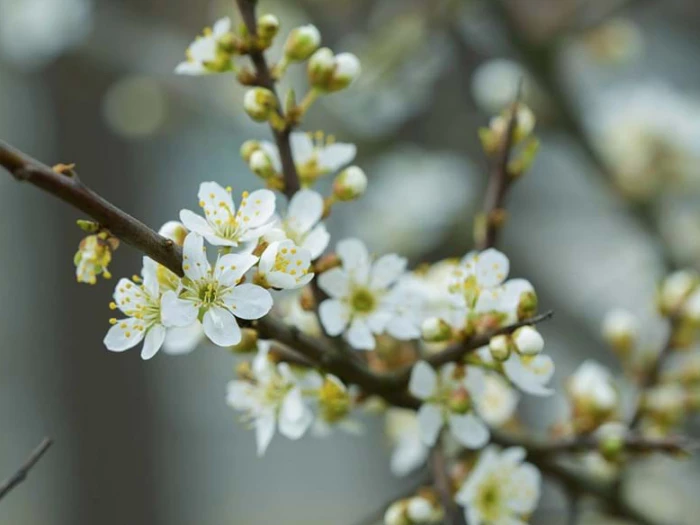 March 2023
Definitely Spring (we thought – despite the cold)! Hellebores out, wild arum coming, wild-type cyclamen aplenty in the garden. A pair of ducks thinking about setting up home by the kissing gate on the way to Whirley. I really must clean out our little pool before the frogspawn appears (not got round to it yet).
The first white camellia flowers opened despite the cold and should come in relays for several weeks. The plant is a cutting we bought at Mount Edgcumbe in Cornwall (home of the National Camellia Collection) some years ago.
Interesting insight into how others exercise a dog one morning. A man walked his dog to the middle of the field and then stood there in deep mobile phone conversation. He threw the dog's ball – the dog chased it and brought it back to drop at man's feet. Man stooped and threw ball again without stopping phone call. DtD and I walked at speed round the perimeter of the field playing catch-the-ball as the man and his hound continued in the same way for a good ten minutes. He then finished his call and they headed for home. Result – man stands still for ten minutes or more, dog runs half a mile – and I expect man kids himself he's had a good walk and is keeping fit...
Winter returned with an ambush of icy wind and snow and sleet. It hurt as it lashed my face. Dot the Dog dragged me out regardless. It was a case of walking fast or freezing to the spot. Large coffee fortified with rum (lots!) when we arrived home.
Rain and snow and sleet persisted in freezing weather for several days (a week or more) and the field-floods that had almost dried up reappeared more or less overnight. The smaller flood reached garden fences behind Henbury Rise in a couple of days. On the brighter side, the pair of ducks that had taken up residence beside the kissing gate and then disappeared as the puddles dried out returned and watched warily as DtD and I approached.
Finally the sun appeared and the breeze was distinctly warm(er) although there was a huge amount of standing water in the fields (SI – "Squelch Index" – 9/10). It was as though someone had suddenly turned on a recording of spring birdsong – or perhaps I was wearing my new hearing aids. A group of ten starlings hit the bird table for the suet pellets I had put out once their watch-bird had alerted them.
Three lots of frogspawn appeared in our little pool and blackthorn blossomed on the Millennium Green (a white "wow"), and new hedges were planted. Greenfinches suddenly hit the feeders. First ladybird spotted sunbathing on a foxglove leaf (between torrential showers).
Spring hit Henbury for the equinox – gales to come? Meanwhile a beautiful sunny morning for Dot the Dog's walk, with a brisk breeze and high wispy clouds. As we got ready to go (no need for arctic clothing at last) a handsome brace of partridges pottered round the garden – they disappeared as soon as the back door opened and DtD hit the ground running.
Within a day or two as the last week of the month approached things really began to move on. Wood anemones and marsh marigolds (some people call them kingcups) began to flower in the wildish area at the bottom of the garden. A lady duck came to inspect the home-making possibilities and our little pool but DtD was not in favour – the duck left at speed. A pair of ducks were then encountered near Moss Cottage. I held Dot on a short leash as they let us get within a few feet of them before taking loud flight, but I know she could have caught one or other if she had been free – ducks take off at about 45o angle but DtD moves very fast horizontally and jumps phenomenally, so they had a lucky escape (not their first).
New season's seeds in – nicotiana affinis which is a lovely tall tobacco plant with an amazing fragrance, window-sill herbs (parsley, coriander, basil), sorrel and land cress for salads and broad beans in the cold frame. Heigh-ho! No rest from now on...
In the meantime some of the fences over Dot the Dog's fields had been re-tensioned, and the defunct cattle trough reappeared in its usual place – we expect (hope for) bovine company soonish.
Sadly the "SOLD" sign by the stables and paddock disappeared again and a new "For Sale" sign appeared. How nice it would be to meet a pony or two on our morning walk.
The red-legged partridges reappeared in our and our neighbours' garden. Talking to dog-walkers and other passers-by the birds seem to have been exploring far and wide in the village. They really are very handsome. Long-tailed tits explored our crab apple tree for insects – it's just outside the back bedroom window and we had never seen them so close up. A great tit explored the bird box.
Bumble bees were about in the (occasional) sunshine, but the mason bee nesting tubes we have on the back wall didn't show any sign of hatching. It's usually April when they emerge and is fascinating to watch.
A windy day came. I stood at the kitchen window after breakfast and dog-walking, contemplating with little enthusiasm the washing up. I saw a dozen or so jackdaws swoop over the garden and do aerobatics in the breeze before shouting ("jack, jack, jack") to each other and going off to enjoy themselves elsewhere.
Serendipity! A self-seeded dog's tooth violet appeared in one of the herb pots. When I get "a round tuit" and repot the herbs I shall find a home for it...
As ever
Horrid of Henbury