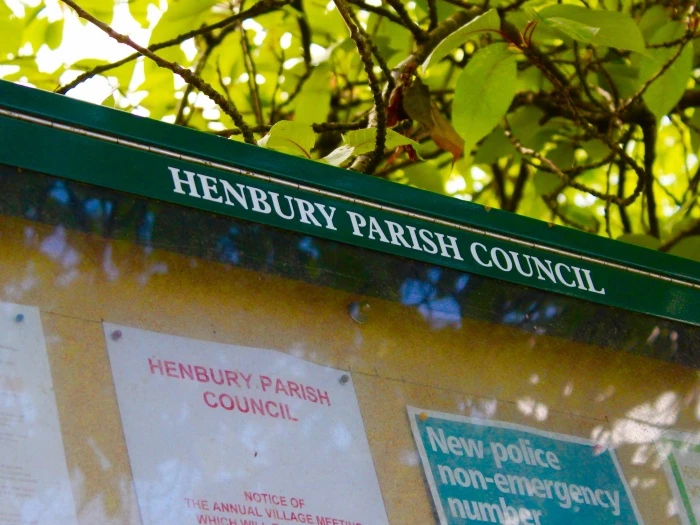 The civil Parish Council, which meets in the Church Hall, has a continuous existence from 1894. It is the second tier of local government, below Cheshire East Council.
The Function of the Parish Council
The Parish Council is your first line of contact for services provided by Cheshire East Council.

The Clerk, Kate Marsh, can be contacted as follows:
E-mail: henbury.clerk@gmail.com
Phone: 07739 396 104
Kate will try to help with any queries, including how assistance may be obtained from Cheshire East Council.
Use your Councillor!
They were either elected or co-opted. They are appointed to help you and to improve the Parish for the benefit of the residents. They do not each have a 'patch', so find one near you or whom you know as he/she may be experiencing the same problems. Discuss with him/her your thoughts on how the Parish might benefit from any changes or additional services you consider should be provided. The names of Councillors and their contact details are shown here.
The Parish Council has links with the utility companies, the various departments of Cheshire East Council that provide services to the residents of the parish and also with Cheshire Constabulary and the Fire and Rescue Services.
The Parish Council can and will act on behalf of the whole of the community and as a result may well achieve more that a resident acting as a single voice.
The Parish Council was instrumental around 1998 in setting up the Henbury Millennium Green. This is now run by six Trustees. The Council makes donations each year towards the cost of the maintenance of the Green. The Council also works closely each year with the Trustees of the Green in the provision of the Bonfire and Firework Display that takes place in November and provides the insurance cover for this event.
The Parish Council also supports and funds this website (in conjunction with the Henbury Society) for the benefit of all residents of Henbury.