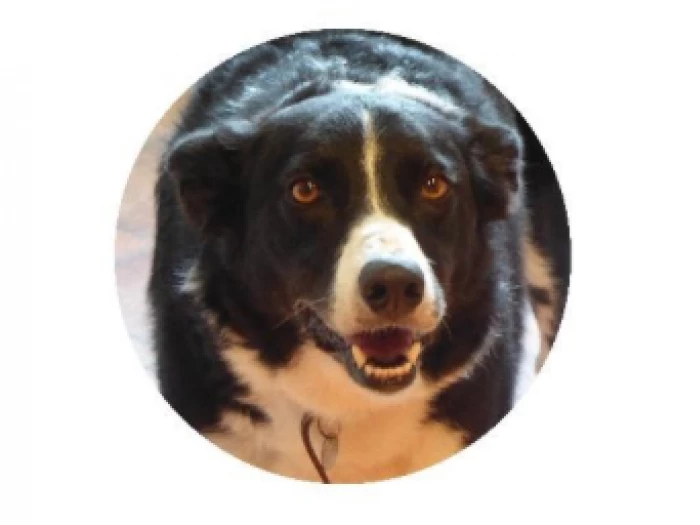 Occasional Notes from a Dog Walker
February 2022
Dot the Dog is a wily beast.
At lunchtime she snacks on "LTBs" – lunchtime biscuits. She has long-recognised the phrase and the acronym and takes up position on "her" settee in the kitchen when she hears either, ready to receive them.
One lunchtime while I was elsewhere DtD stood pathetically by the door into the garage (that's where her food and biscuits are stored) and S duly produced the snack. Not long after (while S was elsewhere) I found DtD again standing pathetically by the garage door. I also handed the same out. DtD looked pleased with herself and I found out why when I mentioned to S that I had given the poor creature her treat...
Dot the Dog and I were having our usual philosophical conversation over the fields one morning. I think other dog walkers often assume I am in deep conversation on my mobile phone using one of those earpiece-come-microphone things, but my experience is that people using them have no idea what their dog is doing, so engrossed are they with whatever trivia they are talking about.
Anyway (dog-speak) DtD was up to her neck in a rabbit hole when we decided the local bunny population would think they were in paradise once all those lovely new freshly-planted gardens appear on what is now the building site/flood plain. She also suggested that where there are rabbits there will be foxes (she sometimes picks up a scent and drags me at high speed following it) – and perhaps raided rubbish bins. We anticipate angry communications with the Parish Council...
We did the Big Garden Birdwatch for the RSPB at the end of January. As usual, the birds withheld their cooperation. I was tempted to enter the things we often see, but it seemed wrong to cheat – so we recorded the usual selection of tits, house sparrows, dunnocks, blackbirds, the resident robin, chaffinches, goldfinches, starlings and wood pigeons – and of course the jackdaws. DtD wasn't much help – she just wanted to chase the pigeons! On a day they are not being counted we also get things like siskins, bullfinches, greenfinches, bramblings, our wren, a song thrush, a jay and great spotted woodpeckers. A pair of collar doves seem to have moved in locally too. How do the interesting birds know to stay away?
Mid-month the winter-grazing sheep moved to a new field, followed by their accompanying corvids – feasting on the residue in the feed troughs. One sheep had a crow perched on its back riding it like a jockey. Meanwhile the immature swan (now probably showing its adult plumage after moulting) left the field-flood. For a few days earlier in the month it had a look-alike companion for a couple of days, but they parted company. The coots remain, very territorial, bickering loudly.
Came the storms, Dudley, Eunice and alphabetical friends. It was a real squelch over the fields (but Dot the Dog insisted we go) and there was quite a lot of debris on Anderton's Lane but no major fallen trees. The path from Henbury Rise to Mossways and Moss Cottage was again inundated as last year, but not so deeply. If we had had a freeze – which did happen last year – it would have been a case of ice-breaking through the flood to get home! The corvids, mostly I think crows but a few rooks and jackdaws too were having great fun doing aerobatics in the wind – their antics can only suggest they were enjoying themselves with swoops and dives and manoeuvres that were incredible to watch. One of them flew up very high, did a few cartwheels and then folded its wings to plummet to only a few feet above the ground before ascending again to repeat the performance. I don't suppose it heard my applause. Such agile and intelligent creatures.
In the storms the ancient ivy-covered elder tree at the bottom of our garden toppled and will have to go. The thin patch in the hedge it overshadowed will have to be filled and the wood pigeons will have to find a new home.
At last the flood on the path between Henbury Rise and the cottages receded – a pity – it rinsed DtD's muddy feet before we got home!
The female sparrowhawk has taken to sitting on top of our bird feeder pole from time to time – I once tried to get a photo but she saw DtD's movement by the back door and flew off. A scattering of feathers on the ground towards the bottom of the garden after her most recent visit suggested that she had dined on some hapless small bird while we were not watching.
As an end to the month a few dry, sunny, frosty mornings for our "expotitons" (as Winnie the Pooh would say). The sunshine has even had a hint of warmth (if you're out of the wind!) but the finale was cold wet and windy.
Equinoctial gales to come...
I remain...
Horrid of Henbury