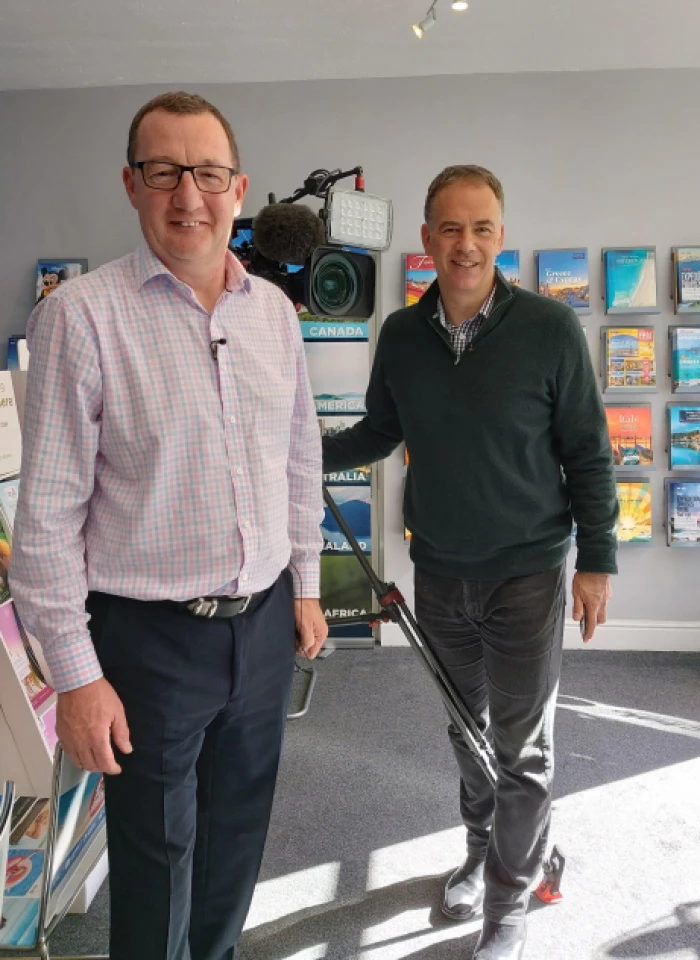 One of our long-serving Henbury Parish Councillors, who owns Macclesfield agency Henbury Travel, is taking part in a regional BBC TV news programme focusing on the recovery of businesses in Northwest England.
The independent agency's owner, Richard Slater, spoke to presenter Roger Johnson last Monday, with the interview due for broadcast during the BBC North West news bulletin. Richard is also the Northwest Chair of ABTA .
The interview was the first instalment of a three-part series called 'Road to Recovery', focusing on three local businesses coping with the effects of the pandemic.
The camera crew and interviewer will return in November and January to interview Richard and update viewers about his progress.
"He asked me about where I see myself on the road to recovery," said Richard. I replied "it's an A-road and we're just turning off a B-road onto the A-road. There is light at the end of the tunnel".
Richard added "Bookings are better, it is mainly for 2022, but late bookings are starting to take over. We also have plenty of new clients booking quality holidays as destinations come on stream."
The agency's social media channels accounts for about one in eight bookings, which Slater attributes to the fact that he shares information about travelling, rather than just special offers.
He said there are still hurdles for customers to overcome, especially older ones who don't have internet access or smartphones, and those who are nervous about catching Covid-19 while travelling.
He also commented that some travellers have been turned away from check-in at Manchester airport, as they had booked direct, rather than with an agent, so they did not have the right documentation.
Henbury Travel is at 127 Chestergate in Macclesfield. Phone 01625 466100