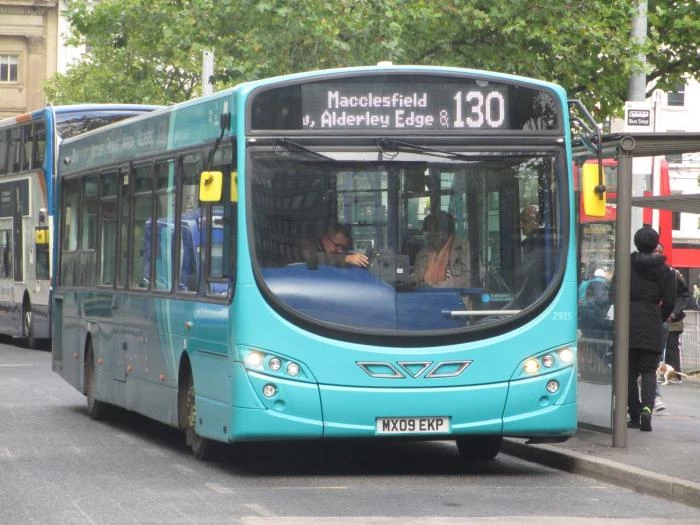 Henbury residents are concerned about the diminished 130 bus service.
Parish Councillor Mike Wood recently attended a meeting of interested parties to discuss the status of the 130 bus service. The meeting was convened by Handforth Parish Council and had representatives of Cheshire East and local councillors in attendance.
The 130 bus service is operated by Arriva buses and has, until earlier this year, operated seven days a week with a general frequency of a half hour service. The service runs at a considerable loss, and does not receive any assistance from the local authorities it serves. Following a review earlier this year, the service was cut to an hourly one, with services on a Sunday completely withdrawn.
Losses have continued, and so with effect from 28th October, the service will no longer operate through to Manchester but will now operate from Macclesfield via Alderley Edge and Wilmslow to East Didsbury terminating there. Passengers may then use the Stagecoach service or Metrolink service through to Manchester.
Reliability and time-keeping have been an issue, so much so that Alderley Park have introduced their own twice daily bus service to Macclesfield. It is hoped that there may be an opportunity to use this service. A link to their service page is here
It was agreed that the decision is right to terminate at East Didsbury, recognising that few passengers travel all the way to Manchester by bus, opting instead to connect to a local train service. There was some concern that unless the patronage of the service increases then it does face withdrawal in the not too distant future.
The loss of the 130 bus service would be felt by many in Henbury and throughout Macclesfield. It is disappointing that the frequency has been reduced, though Arriva believe that both reliability and timekeeping will improve as a consequence of their decisons.
It was also frustrating to hear representatives of Cheshire East state at the meeting that there is no future in bus services and that the future is in driverless cars, yet they actively promoted the 130 bus service to justify development of Greenbelt land in Henbury.
The new 130 Timetable is available here, and It may be of interest for residents to note that Arriva have an app available that allows you to check the status of the bus to ensure it is on time. Paper copies of the new 130 timetable will be available in the Church Hall.
The D & G bus service 88 still runs a limited service through Henbury (Monday to Saturday). Timetable here.
A very useful website is Traveline – which offers a comprehensive journey planner – covering all bus services and trains as well. (Tip – use your postcode as a start point!)
Henbury Online plan to conduct a survey into what would encourage you to use the bus services more. Use it or lose it! Watch this space.