New Public Footpath from Fanshawe Lane and around Sandbach Farm en route to Bearhurst Lane.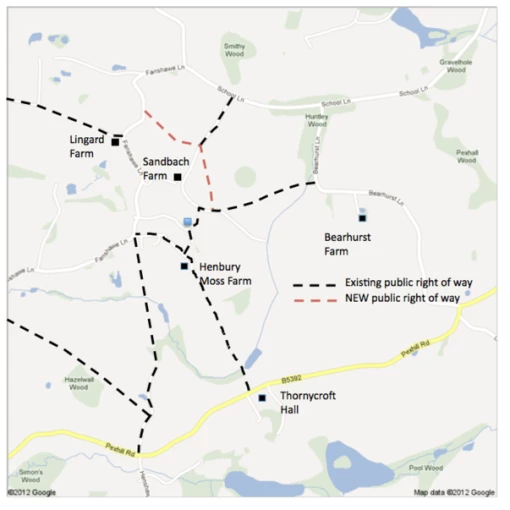 Update 2018 NB -- the footpaths around Sandbach Farm have been changed recently. View this PDF for photos to help with this route.
The circuit starting from the Church is about 1.5 hours or about 40 minutes from the junction of School Lane and Bearhurst Lane at a gentle pace.
(The route can be shortened by walking up the Drive and rejoining the walk at ***)
Continue to pass the entrance to Marlheath on the right then look for a new kissing gat (KG) up the bank on the left about 120 yards beyond the end of the black and white Cheshire railings.
Through the KG head half right keeping right of the telegraph pole in the fence ahead to reach a KG in the bottom field corner then follow the right hand hedge to another KG onto Sandbach Farm drive. Cross the drive.
*** Go through the KG on the left of the drive and walk half left over the brow of the hill, keeping well left of a fenced area, to drop down to a KG in the far corner and a junction of 3 paths.
Climb the stile on the immediate left and cross the pasture following a route between 2 trees and the telegraph line (yellow waymarker here) cross a wooden bridge which has a stile at each end.
Turn left along the hedge boundary then right along the fence at the end of Huntley Wood to enter Bearhurst Lane at a stile behind a holly bush beside a wooden gate.
Turn left along the lane to reach School Lane again.