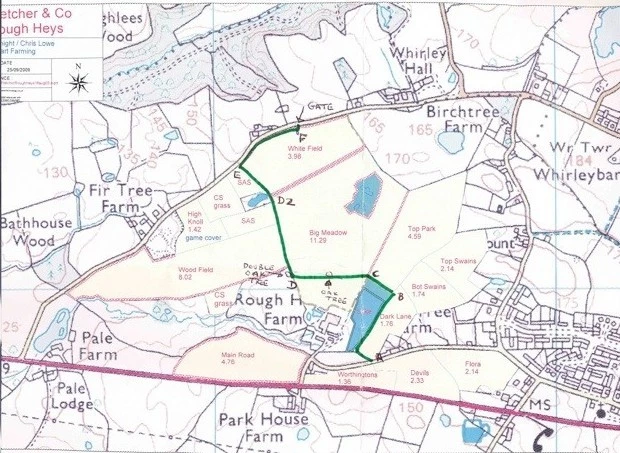 New Permissive Footpath between Dark Lane and Whirley Lane.
With the kind permission of the landowner and of the farmer, parishoners now have the use of a new walk near Henbury. The walk is open between 1st February and the 31st August each year and the route is waymarked using standard white arrows. Dogs are welcome but must be kept on a short lead at all times and walkers are strongly adviced to wear wellingtons or boots.
The walk runs from Dark Lane, starting just below "Old Chapter" GR875738 cross-country up to Whirley Lane, close to "High Lodge" GR872745. Walking up Whirley Lane and to wards the village via Andertons Lane provides a pleasant circular walk.
DARK LANE/WHIRLEY LANE CONCESSIONARY FOOTPATH IMPROVED ROUTE.
Please note that there has been a change to this route as detailed on the sketch map below. The path follows its original route along the field boundary from Dark Lane then turning left for a short section of track. The new route then turns right up a gently sloping wide grassed track to a pond in a field corner. From the pond swing left along a short section of field boundary to reach another grass track which exits via a gate onto Whirley Lane opposite cottages and closer to Whirley Hall than the previous route. Directional arrows have been posted to enable it to
be walked in either direction.