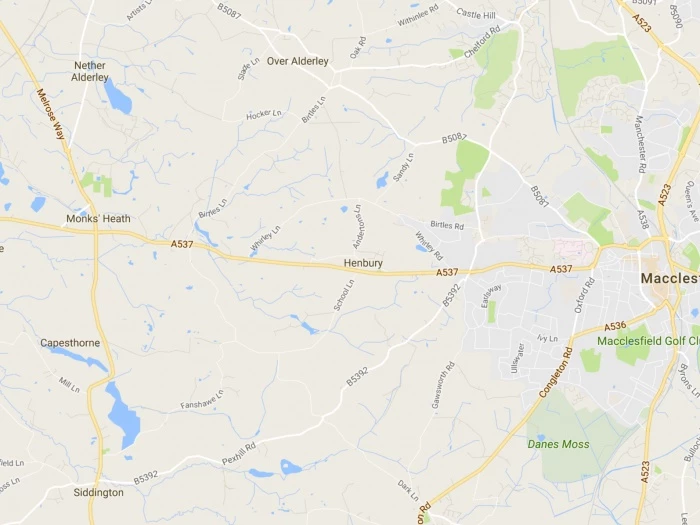 Redesmere and Blake House Farm. 3 miles, easy. (see map for walk number 2)

Park on the south side of Redesmere, and walk east along the lane. Just beyond trees at the water's edge, take a style on the left which leads to a path which crosses a meadow on the east side of the lake, then a second style to a kissing gate. Do not take the path to the right, but continue north through trees, through another gate with the sailing club on your left.
Follow a track along the Redesmere bank until about 20 metres before the track joins the main Congleton Road (A34). On your left, a stile leads to a path across the northern end of the lake. Cross the main road (A34) to a stile opposite, and walk with a fenced wood on your right.
Another stile leads to meadows bordering two Capesthorne pools on your right. Continue to a kissing gate, across the private drive (which crosses a bridge, built c. 1843 over the pool). Continue north to Mill Lane, and over a stile opposite. Bear left across the meadow and two further stiles. Cross a muddy cart track, through a field gate and stile opposite, and turn left. Keeping the hedge on your left, and now moving south, cross 3 stiles making for Blake House Farm diagonally across another field.
Walk down Blake House Farm track and take the first lane on your left. This leads to a path running along the edge of a wood, situated in a deep hollow on your right. At a junction, turn left past a small holding (barking dog!) and continue until you reach the A34, where you turn right along the footpath. Cross the A34 to follow the first lane on your left to return to your parked car.